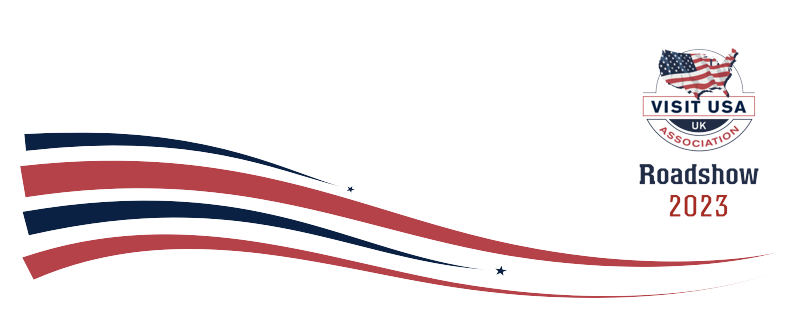 LONDON 
WEDNESDAY 4TH OCTOBER
Canary Riverside Plaza Hotel
GLASGOW
THURSDAY 5TH OCTOBER
We want you to know exactly how our service works and why we need your registration details. By providing your personal information below, you give your consent to be contacted about the Visit USA Association (UK) Ltd 2023 Roadshow as well as future Visit USA (UK) trade events that may be of interest.
We'll always treat your personal details with the utmost care and will never sell them to other companies for marketing purposes. We will however, share your contact details with the 32 Visit USA members exhibiting at the 2023 Roadshow in order to facilitate the exchange of information regarding current and future travel offers and ideas.
Watch Highlights of the Visit USA
Roadshow 2022 in Manchester here
The Visit USA Roadshow uses MailChimp as its marketing automation platform. By clicking below to submit this form, you acknowledge that the information you provide will be transferred to MailChimp for processing in accordance with their Privacy Policy and Terms. By providing your registration details and signing up to the 2023 Roadshow below, you consent that Visit USA (UK) can use and share your data in this way. You may opt out of receiving our updates at any time, either by using an unsubscribe link in the footer of any email you receive or by contacting us at info@visitusaroadshow.com. Please read the Visit USA Privacy Policy to understand more about how to exercise your privacy rights, including changing your marketing preferences.
Register now for this innovative event and see 32 Visit USA members present their latest travel ideas, plans, insight and secrets. Your attendance at The Visit USA Roadshow will give you the chance to win an incredible prize at your chosen event as well as one of ten fabulous prizes given away each evening. More details are available on the Prizes page. Register Now to secure your place at this premium event.